Hi everyone…this is the fourth part of our recent family vacation to Kota Kinabalu, Sabah. You can read the first part of our trip in this post: Family Vacation to Kota Kinabalu, Sabah (Malaysia) | Part 1, and the second part here: Family Vacation to Kota Kinabalu, Sabah (Malaysia) | Part 2, and the third part here: Family Vacation to Kota Kinabalu, Sabah (Malaysia) | Part 3 – Beringgis Riverside Seafood Restaurant.
Initially, I wanted to make this a four-part series of posts, but after sifting through my pictures, I don't think I can squeeze the rest of the images in this one final post. The trip to Kamagi Riverside has tons of nice photos and stories to tell. I have to divide that post into 2, which would make this whole series of posts a total of 6 posts.
Likas Bay, Kota Kinabalu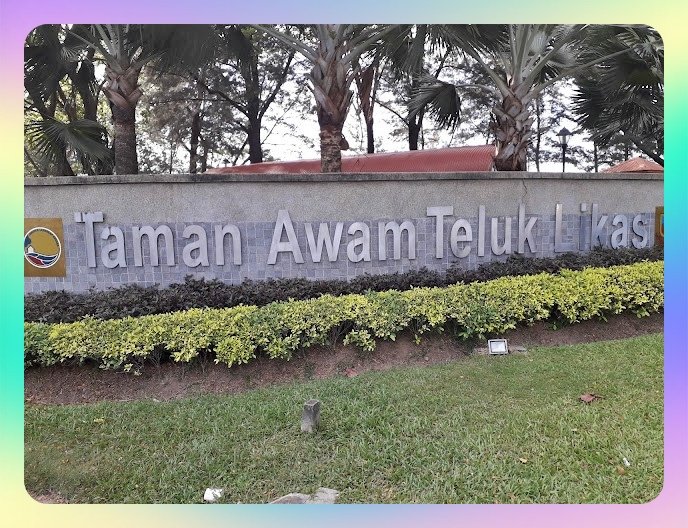 Our trip to Likas Bay was unplanned. My husband @voltranrex suggested we visit the Menara Tun Mustapha (Yayasan Sabah) and the Sabah State Administration Center to go sightseeing and take some photos with the kids. But when we realized that the Likas Bay Public Park was open to visitors, we decided to stop by and explore around a bit. Likas Bay Public Park is located on a wide stretch of bay, about 5km in distance. It has nice cycling and walking path, making it a suitable recreational place for the whole family. The entire stretch of the bay is walkable, with many huts and trees along the way. I was so happy to see the trees (Australian pine trees to be exact) lining the bay because it means there are plenty of shaded areas for one to rest.
The kids and I took a photo under some of the shaded areas. The weather was a bit cloudy, and it wasn't overly windy.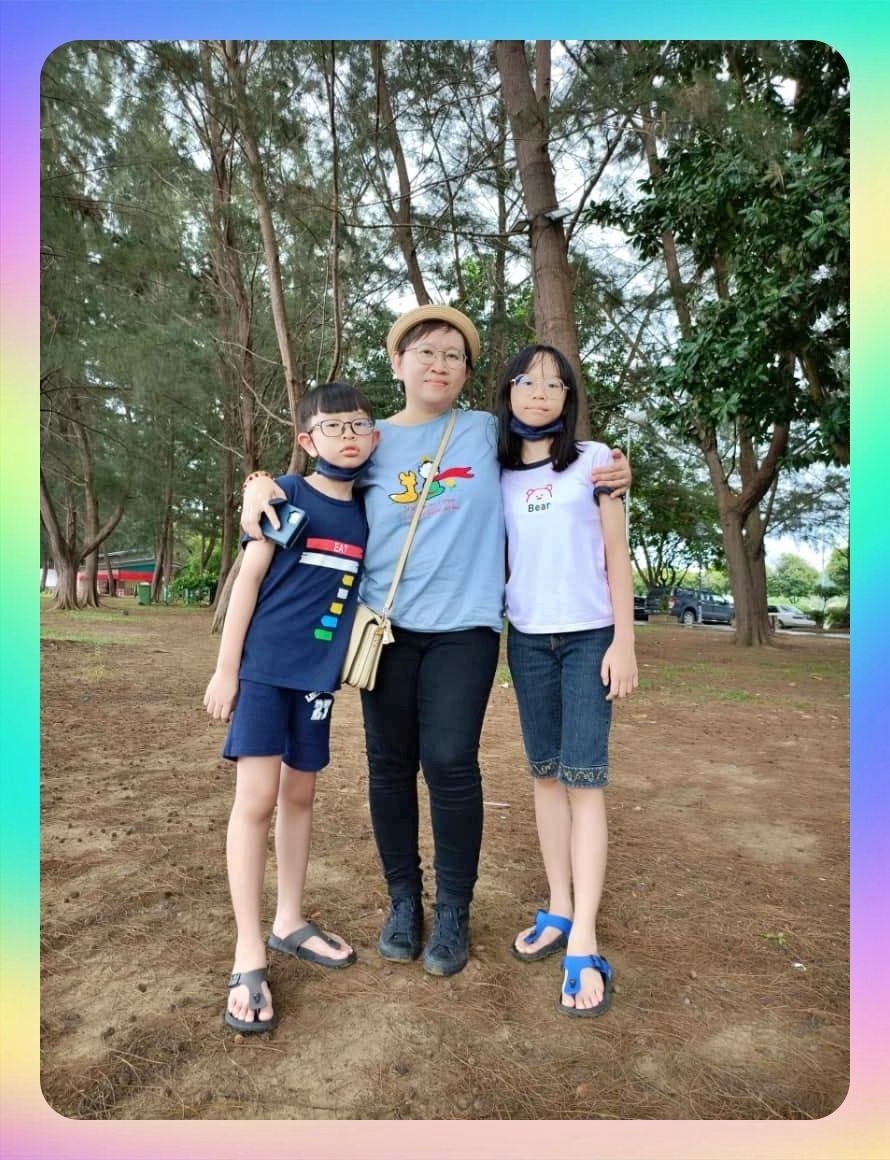 There were several food stalls along the bay, but I didn't pay much attention to them because we didn't intend to eat anything as it was close to dinner time.
Throughout the bay, there were several locations with beaches. However, the seaside was mainly soil rather than sand, and the water was murky brown making it unsuitable for swimming. But if you love to fish, this is a fantastic place to be. We could see fishermen casting their lines to fish from a boat or two. There were herons flying around too. You could see several islands in the distance – Gaya, Udar Besar, and Sepanggar.
We reached this stretch of beach and found a scenic spot to capture some photos. A family selfie is a must…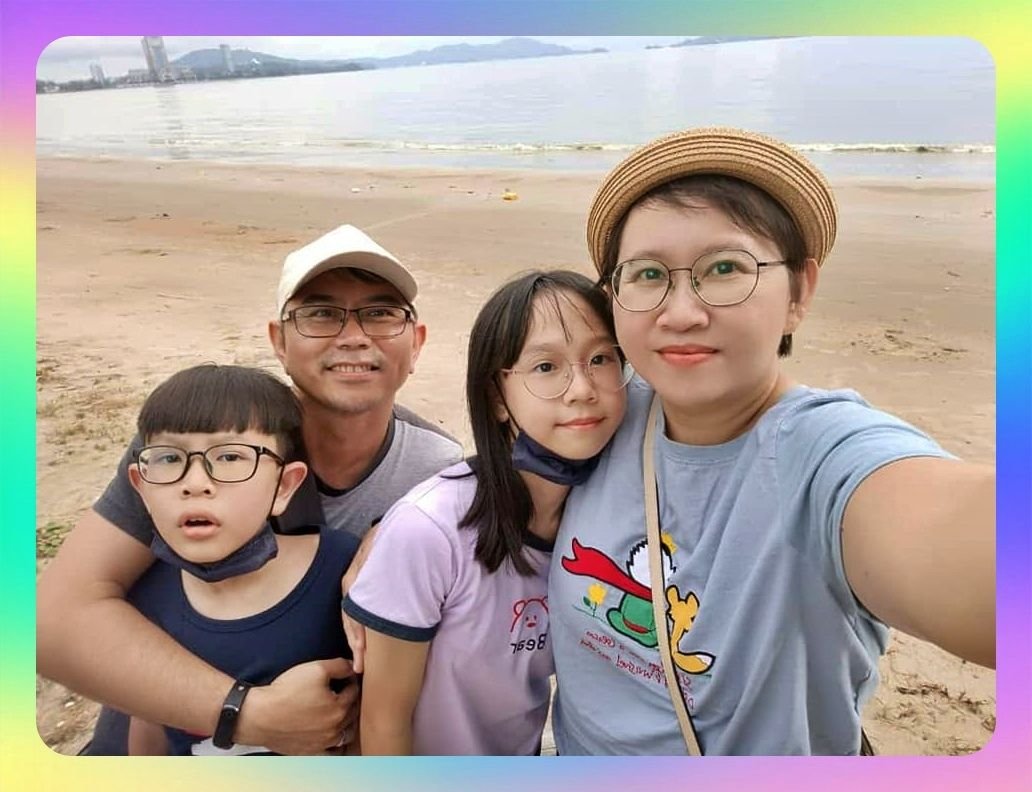 …and so does a couple of photo…
Looking at his photo I can't believe that we are in our mid 40s 😆..up close you can see our wrinkles 🤣. We have been married for 16 years and have known each other for 23 years 😄💑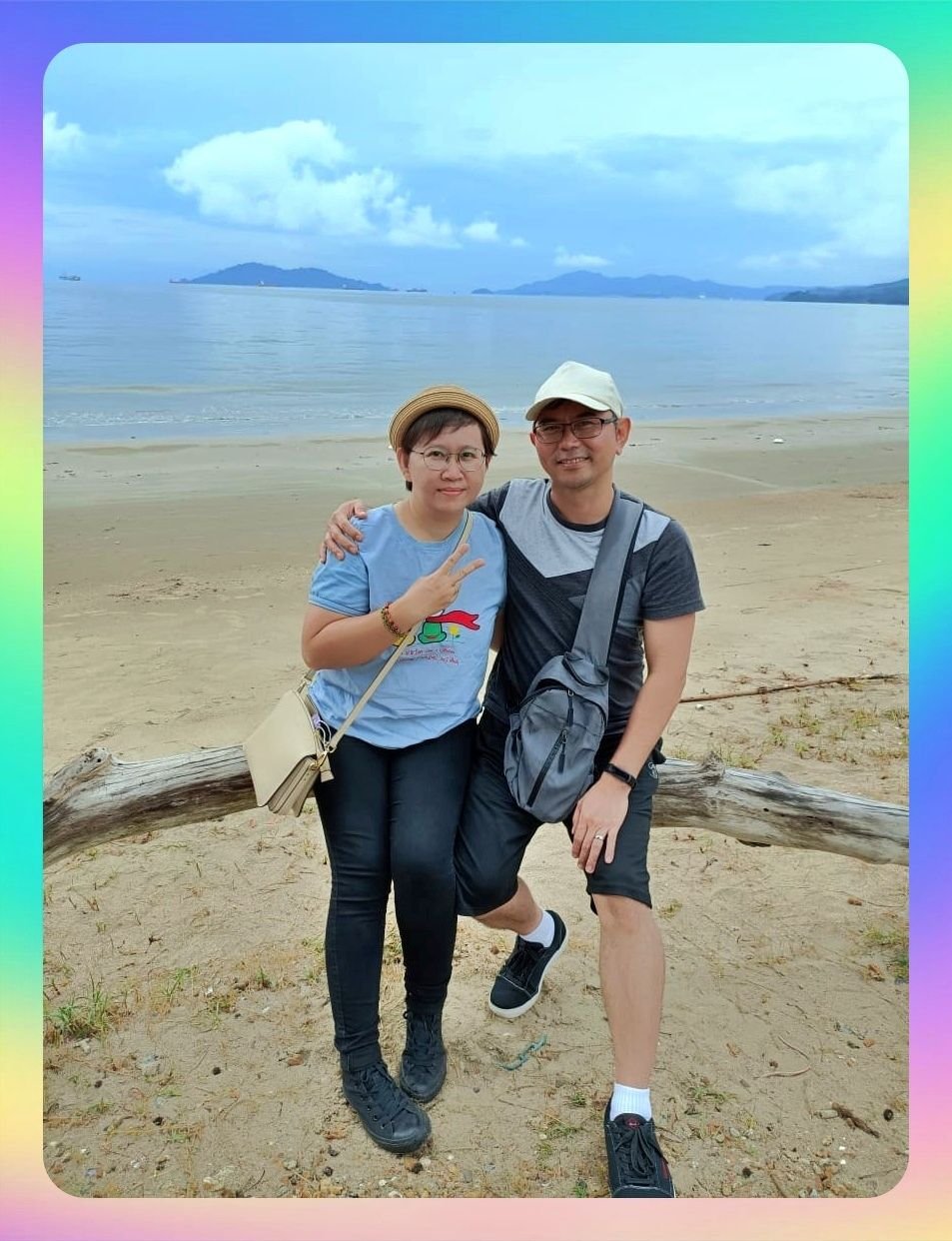 A very nice view of the Sabah State Administration Center was taken somewhere along the beach. The cylindrical building next to it is the Menara Tun Mustapha (Tun Mustapha Tower) or better known as Yayasan Sabah.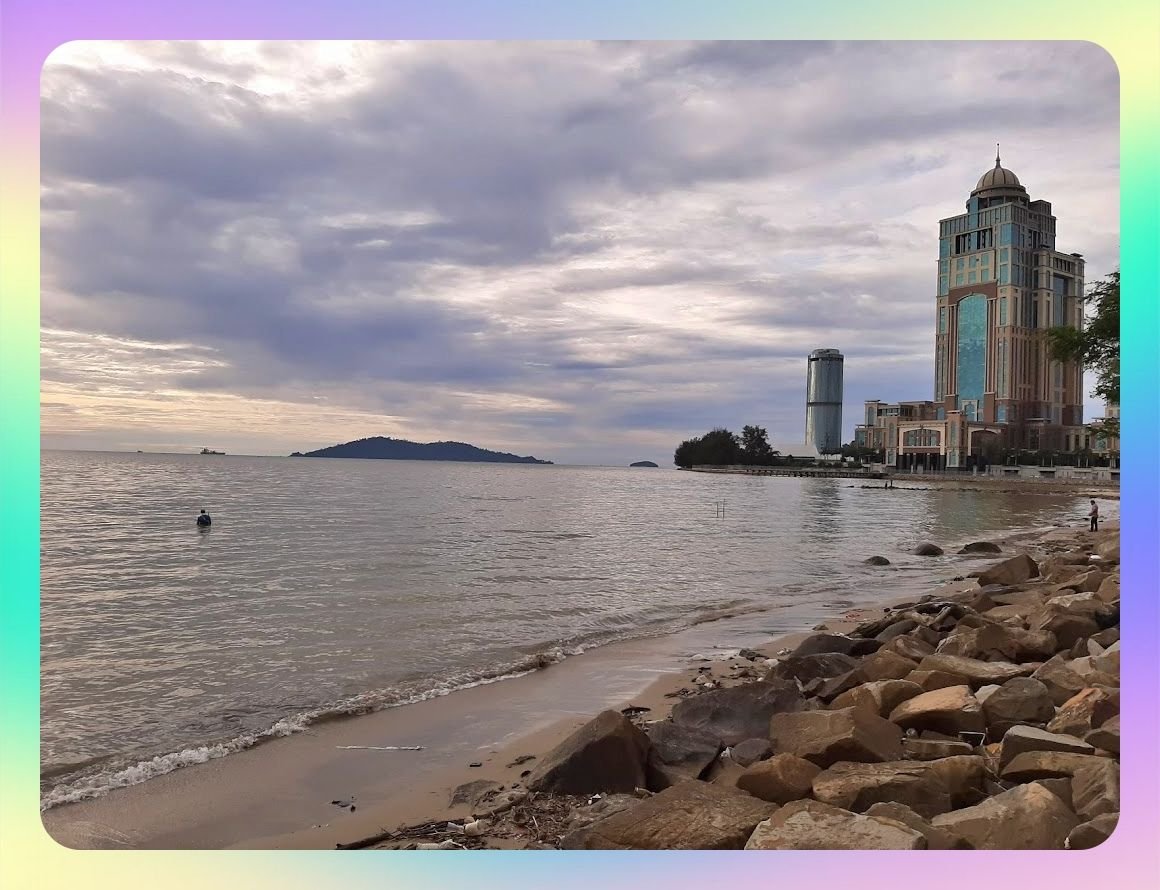 Okay, I didn't capture the next two photos. Those were from Google, and I wanted to show you the children's playground and the jogging/cycling path. Those two facilities were located towards the end of the bay, and we didn't walk that far because the kids were tired. I wouldn't mind walking the whole stretch and just enjoying the moment. Still nothing is more annoying than walking with whining companions 😒
The place was clean and well kept. I love the jogging path. It would make a great place for Nordic walk too.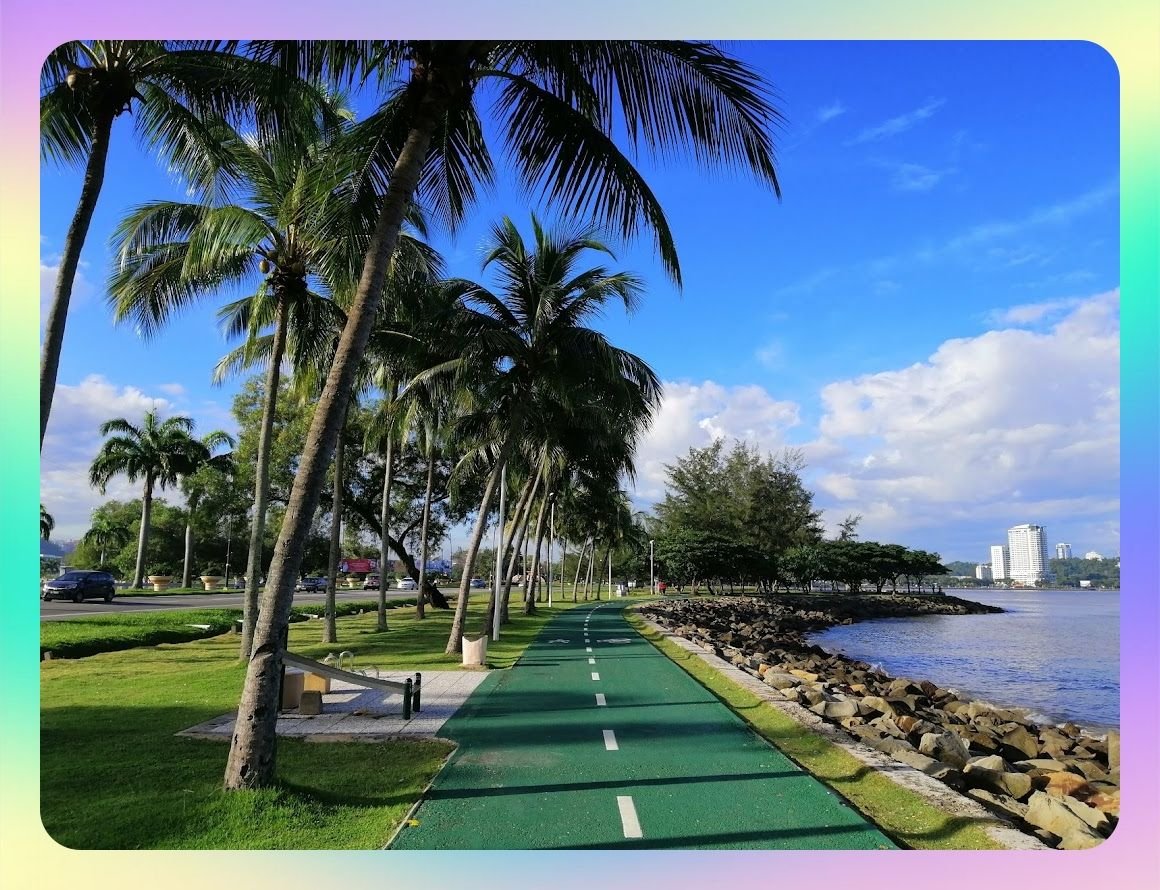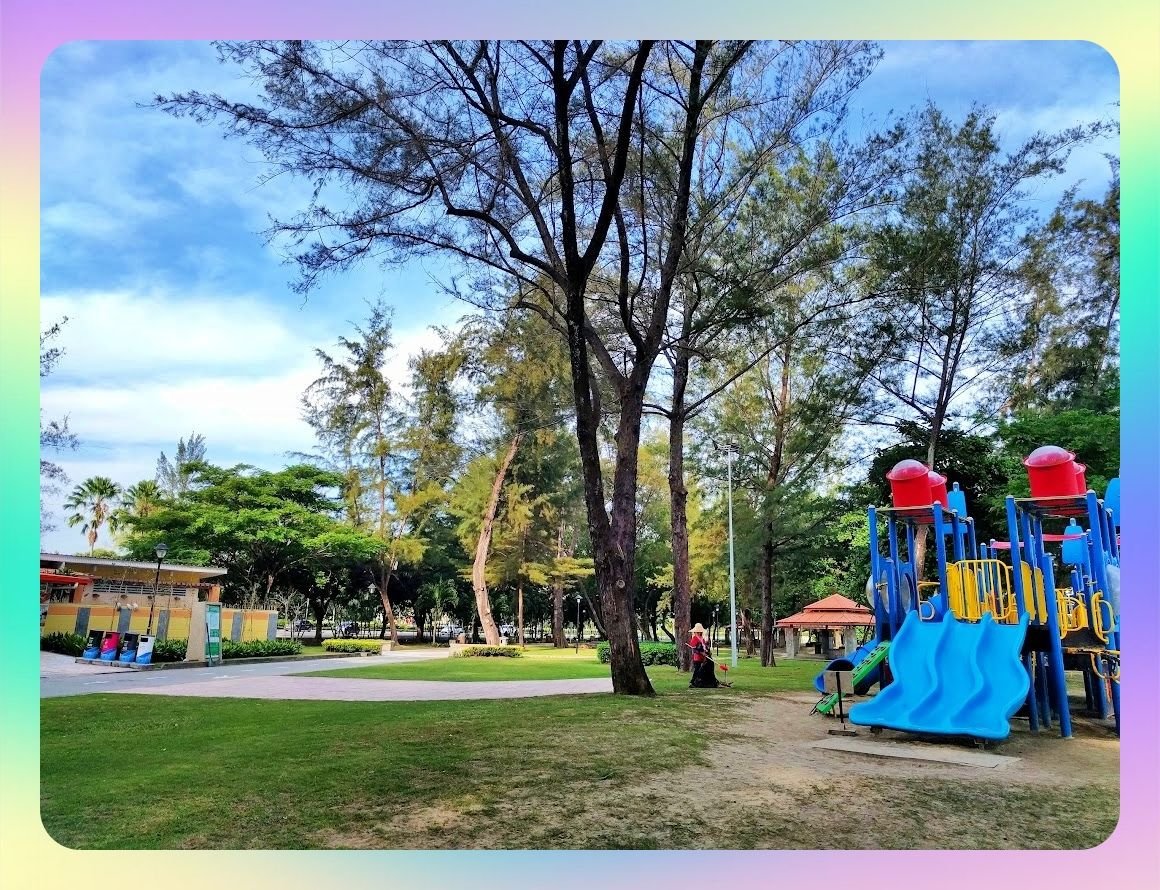 And before we left, we stopped by at Yayasan Sabah and the administration center building. It was almost dark when we reached there (by car), but we captured a couple of photos just before the sun went down. We couldn't see the sunset because it was cloudy and the sun was obscured behind the clouds.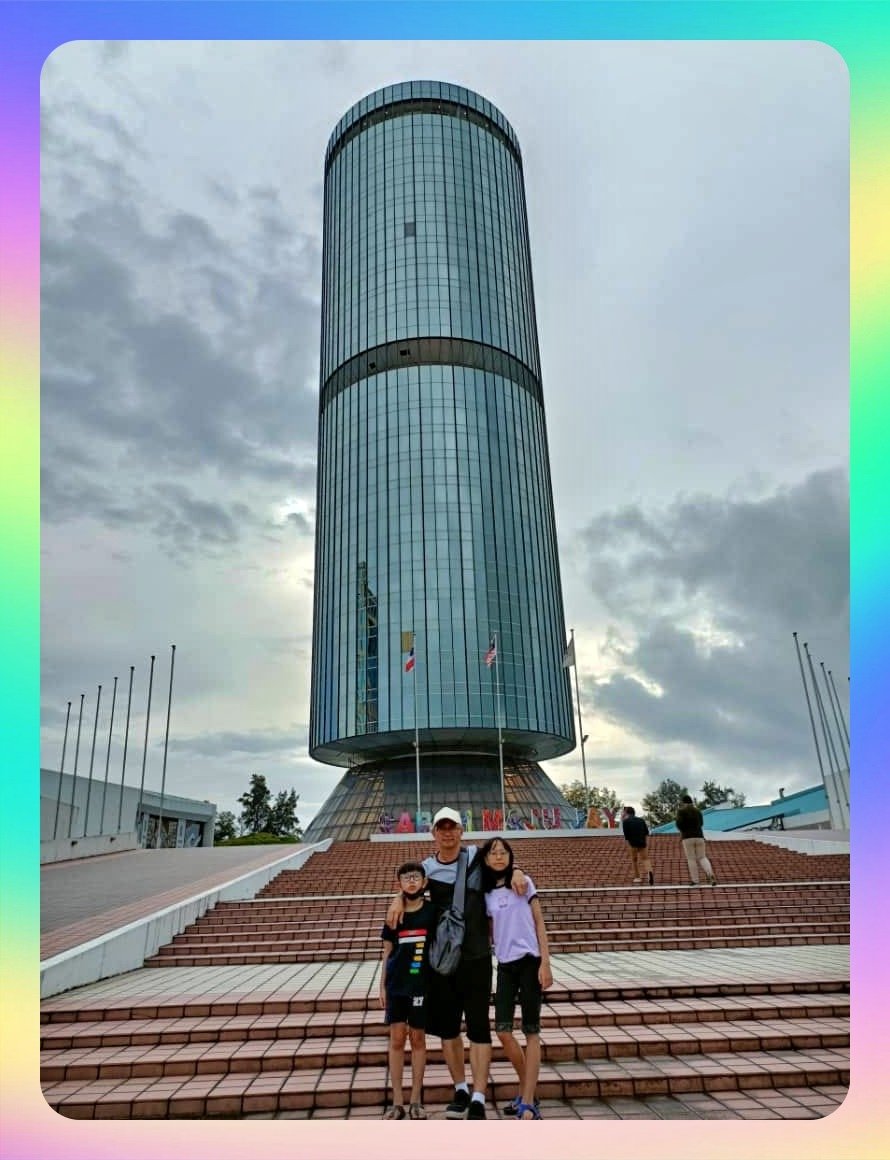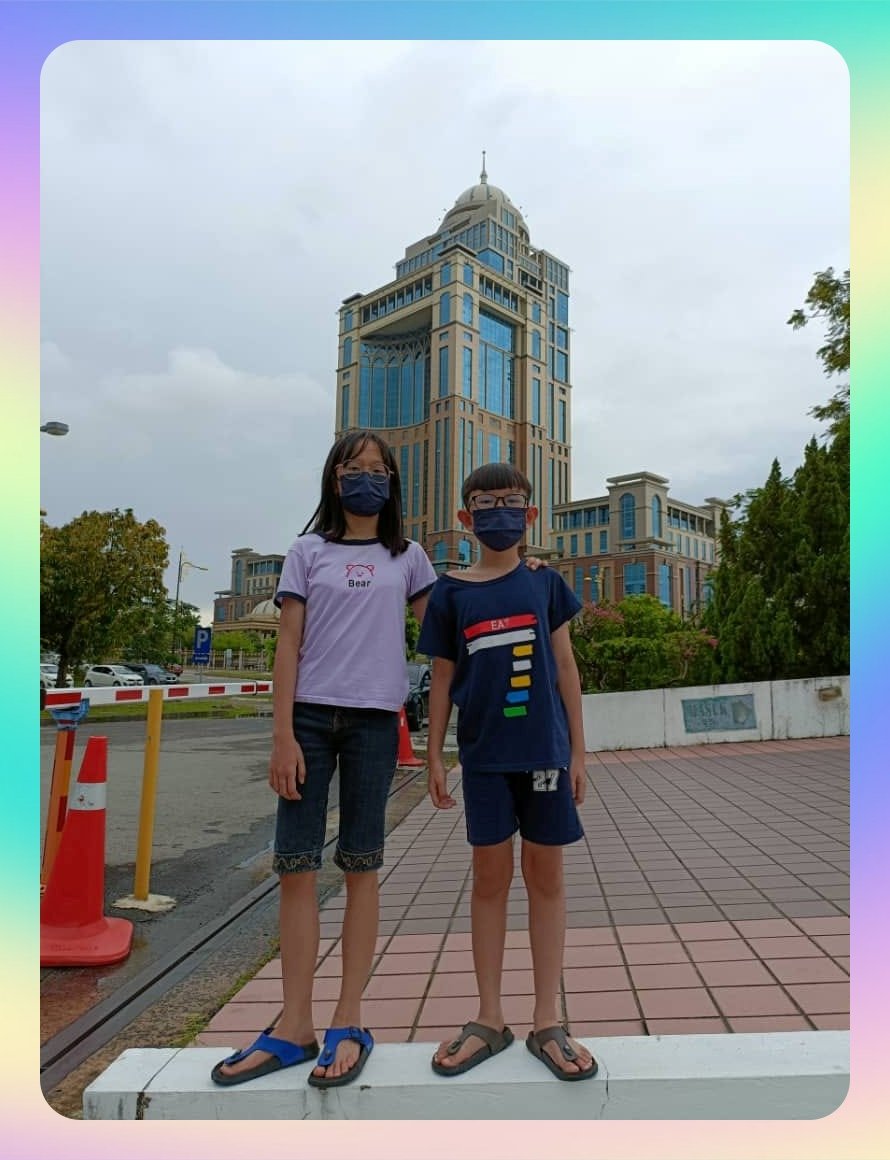 The last 2 vacation posts will be about our trip to Kamagi Riverside. I need some time to plan for those posts. I hate slapping images and putting short descriptions on my posts that require minimal effort. I always make an effort to give more thorough explanations. That way, I would feel the posts would be worth the votes were given.
That's it for now. If you read this far, thank you. I appreciate it so much! Kindly give me a follow if you like my content. I mostly write about making art, life musing, and our mundane yet charming family life here in Klang Valley, Malaysia.
Thank you for visiting and reading my post. I hope you like it!
My First NFT Collection – Stencil 2017 – Is Now Available On OpenSea

Note: this post was originally posted on my Hive blog.