Hi all…this is the third part of our recent family vacation to Kota Kinabalu, Sabah. You can read the first part of our trip in this post: Family Vacation to Kota Kinabalu, Sabah (Malaysia) | Part 1, and the second part here: Family Vacation to Kota Kinabalu, Sabah (Malaysia) | Part 2.
Before I Proceed…Support Ukraine Relief
I am sitting here on my desk trying to write this down. I feel a bit emotional because I have been checking on updates on the war in Ukraine prior to writing this. I don't know anyone (at least personally) who is being affected by the war, but I do know many International Churches of Christ (the church I attend) members in Ukraine are fleeing to Moldova. What touched me the most is that many men can't leave the country because they need to defend their country. Imagine fleeing your country without your dad, husband, brother to the unknown. That got me teared up a bit. So you see, after reading and watching news of war, it kind of a bit jarring to write down about my vacation. If there is any lesson I learned from such news, it is to hold my loved ones closer and appreciate the peaceful country I live in. So, before I proceed, I would like to encourage everyone to give thoughts and prayers for peace in Ukraine. If you want to donate to Ukraine Relief, you can do so here: Hope Worldwide Ukraine Relief. I am a volunteer for HopeWorldwide Malaysia and I can guarantee that your donation will be channeled to the right people who need help the most.
Beringgis Riverside Seafood Restaurant
I wrote briefly that we went to Membakut for some family matters in my previous post. It was just a half-day trip to Membakut, and we drove in 4 cars (with my in-laws). The journey to Membakut took 1 hour. It wasn't a long journey, but the road condition wasn't very good because the Pan Borneo Highway was still in the midst of construction. And also, it was raining heavily, and because my husband was not familiar with the direction, we drove slowly, 60-70kph at most.
It was almost 6pm when we headed back Kota Kinabalu. It was dusk, and everyone was tired and hungry. Someone suggested we stop by at Beringgis Riverside Seafood Restaurant (BRSR) for dinner. No objection was raised, and we drove our way there. BRSR is located roughly 20km from Kota Kinabalu, in the district of Papar (a West Coast division of Sabah).
It was already dark when we arrived at BRSR. It was located next to Beringgis River, hence the name. But since it was already dark, I couldn't see the river. According to my sister-in-law, there is a fireflies cruise for those interested in watching fireflies along the riverside. I wasn't aware of such a cruise and had to dig for some info on the internet. The cruise is apparently offered by a local tourism company, Totally Borneo Holidays Sdn Bhd. An advanced booking has to be made before the cruise, and the tour starts at 4.30pm and ends at 8.00pm.
I had to dig for these photos from a Google review to show you the river because it was dark when we arrived. And the entrance to the Beringgis fireflies cruise.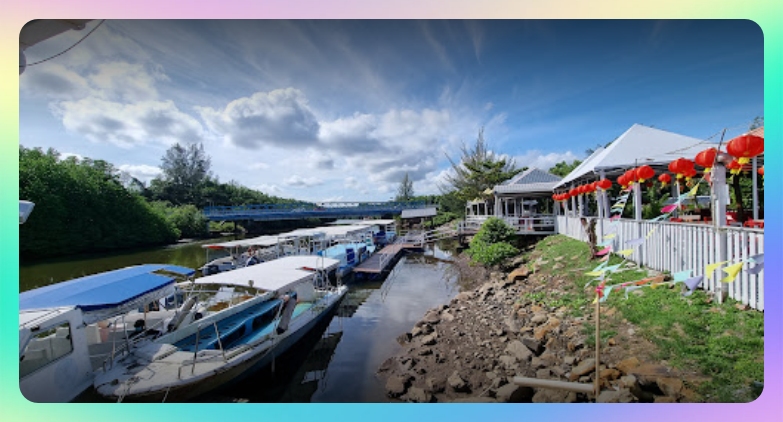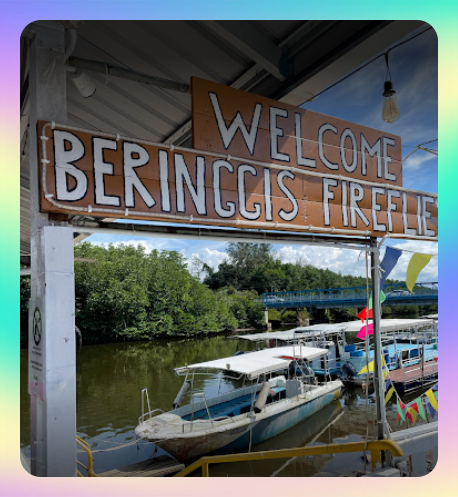 And the entrance to the restaurant. When we arrived, there were few patrons, and I was concerned it would be crowded, but it melted away when I realized how spacious the restaurant was. Some decorative lanterns were hanging from the ceiling, and I admit it was a charming and welcoming place to be.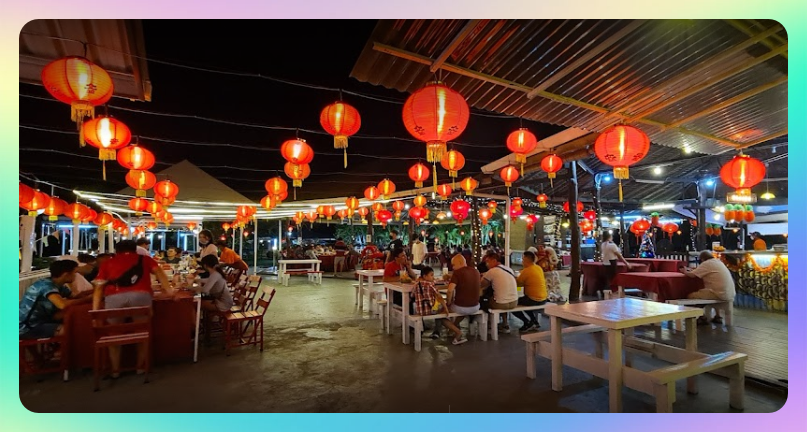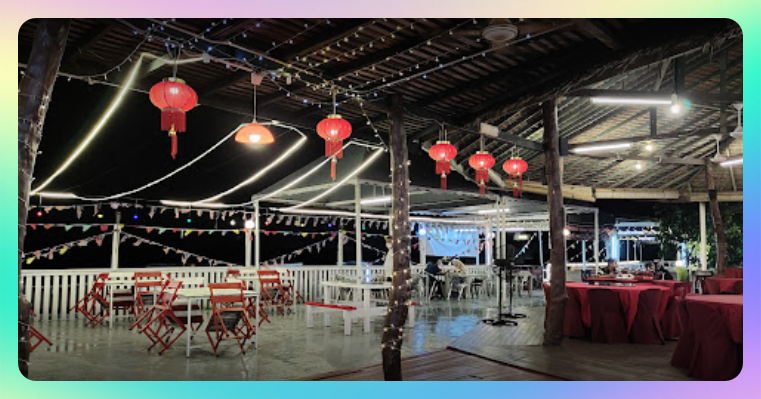 The staff quickly ushered us to our table. We had several children among us, so I informed the staff that the kids would occupy one table and adults on another. They were happy to oblige. Here's a quick family photo. The kids were obedient and kept their masks on until they were served.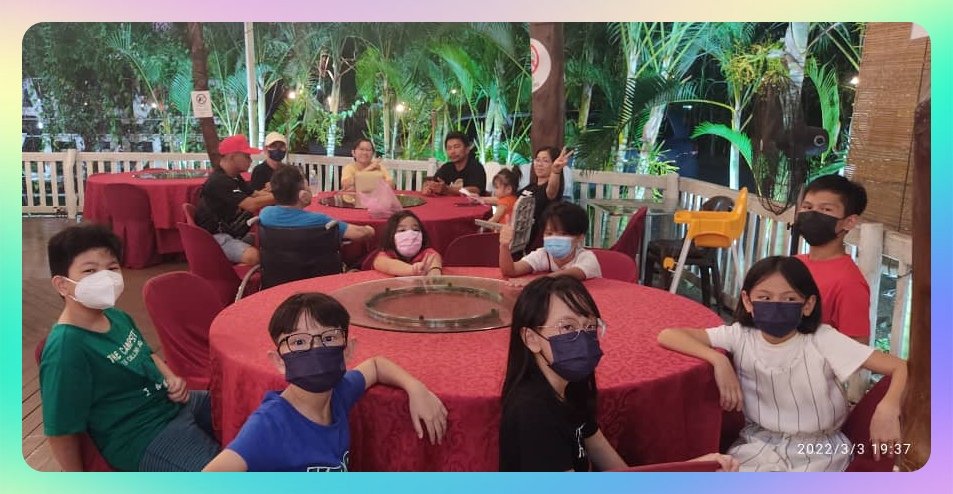 We ordered prawns, two vegetables dishes, soups, and a big steamed fish with ginger. I can't remember what kind of fish we ordered. It could be a grouper. And of course, rice! What is an Asian meal without our staple dish, the lovely rice LOL! The kids waited patiently for their food to be served. We had satay too, but we bought it elsewhere.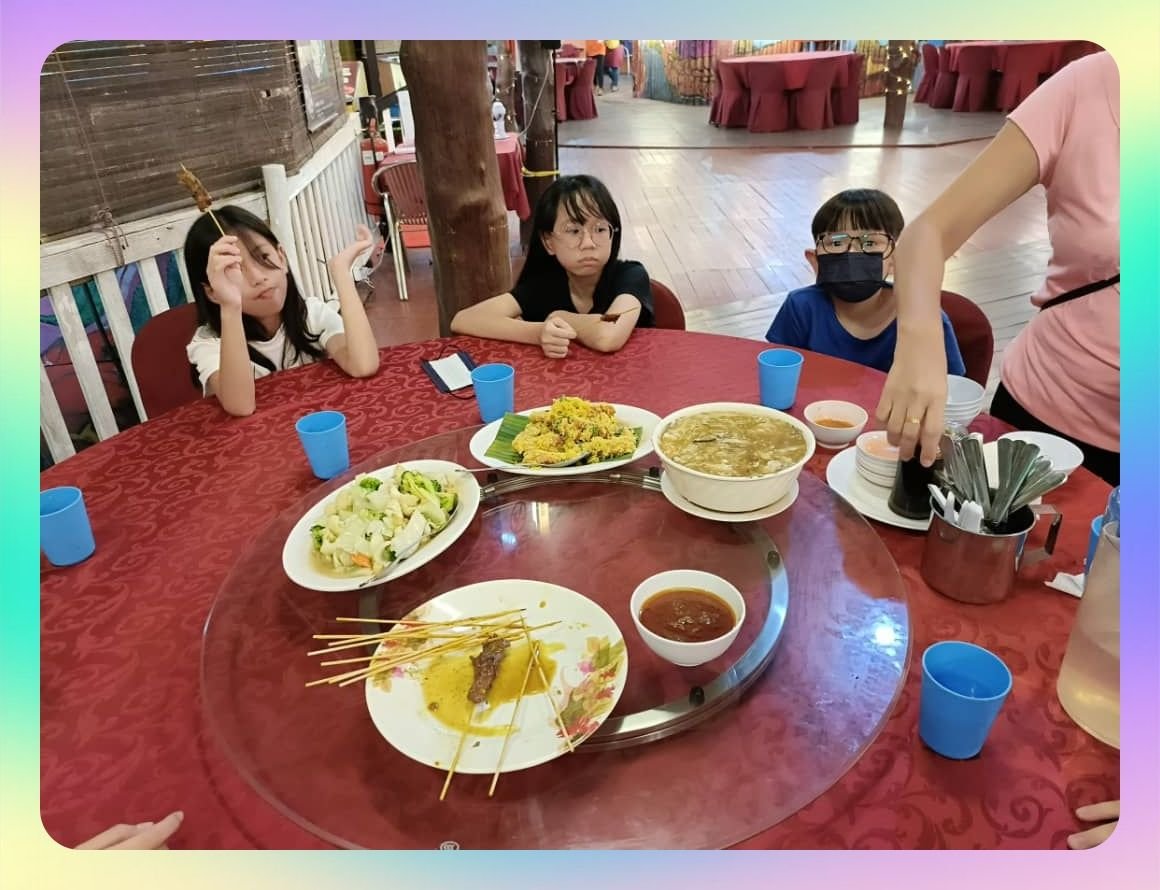 My sister-in-law serving the soup in small bowls to the kids. My son (partly obscured), was enjoying his satay.
We shared funny stories while eating and had a wonderful time bonding as a family. My kids enjoyed their meal, and so did their cousins. I was delighted to see both of them having a wonderful time bonding with their cousins. They were close in age, with the eldest being 14 and the youngest 2 years old. A simple family trip and dinner like this are very precious because my family and I live so far away from our loved ones. I wish we could live closer and my kids growing among family members, but alas…we have to make a living elsewhere. We can't have all we want in life. Something got to give, right?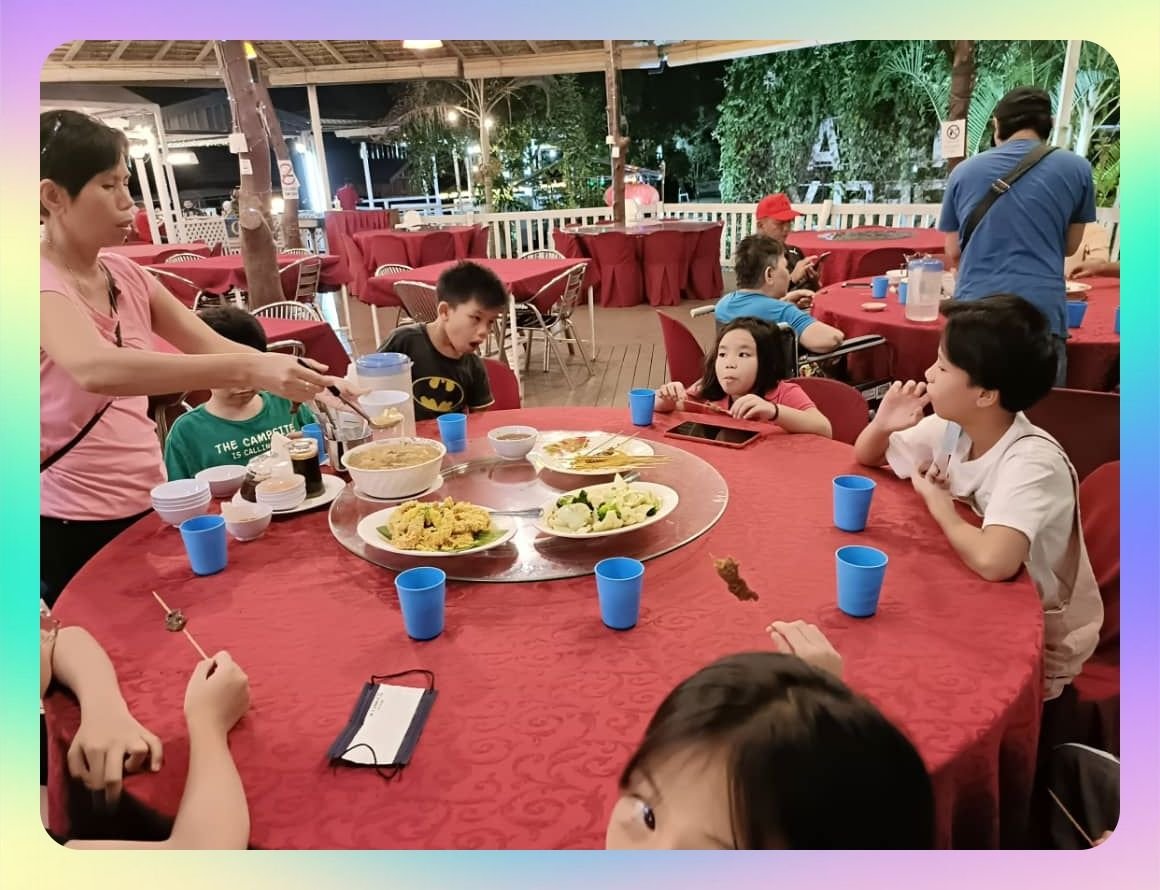 The baby of the family enjoying her drinks.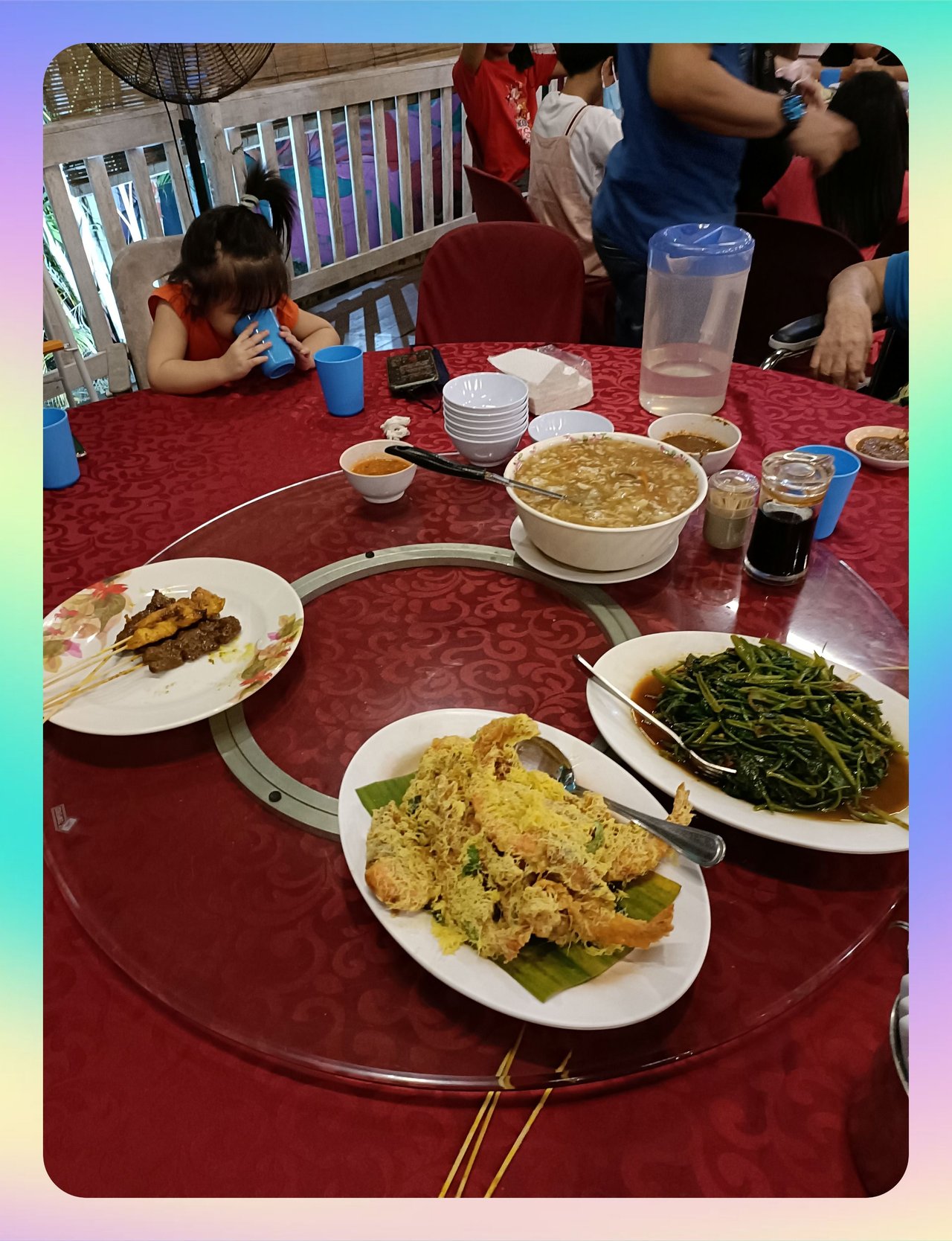 And photos of the delicious food! Unfortunately, I don't have the photo of the last dish, the steamed fish with ginger! It must be in my husband's phone and I don't have it with me. Hmm….the fish was enormous and we had a hard time finishing it. Everyone was so full and happy with the food. When the bill came, the price was very reasonable. It would cost more if we were to have dinner in KL with similar food and portion. Seafood is awfully expensive in Klang Valley!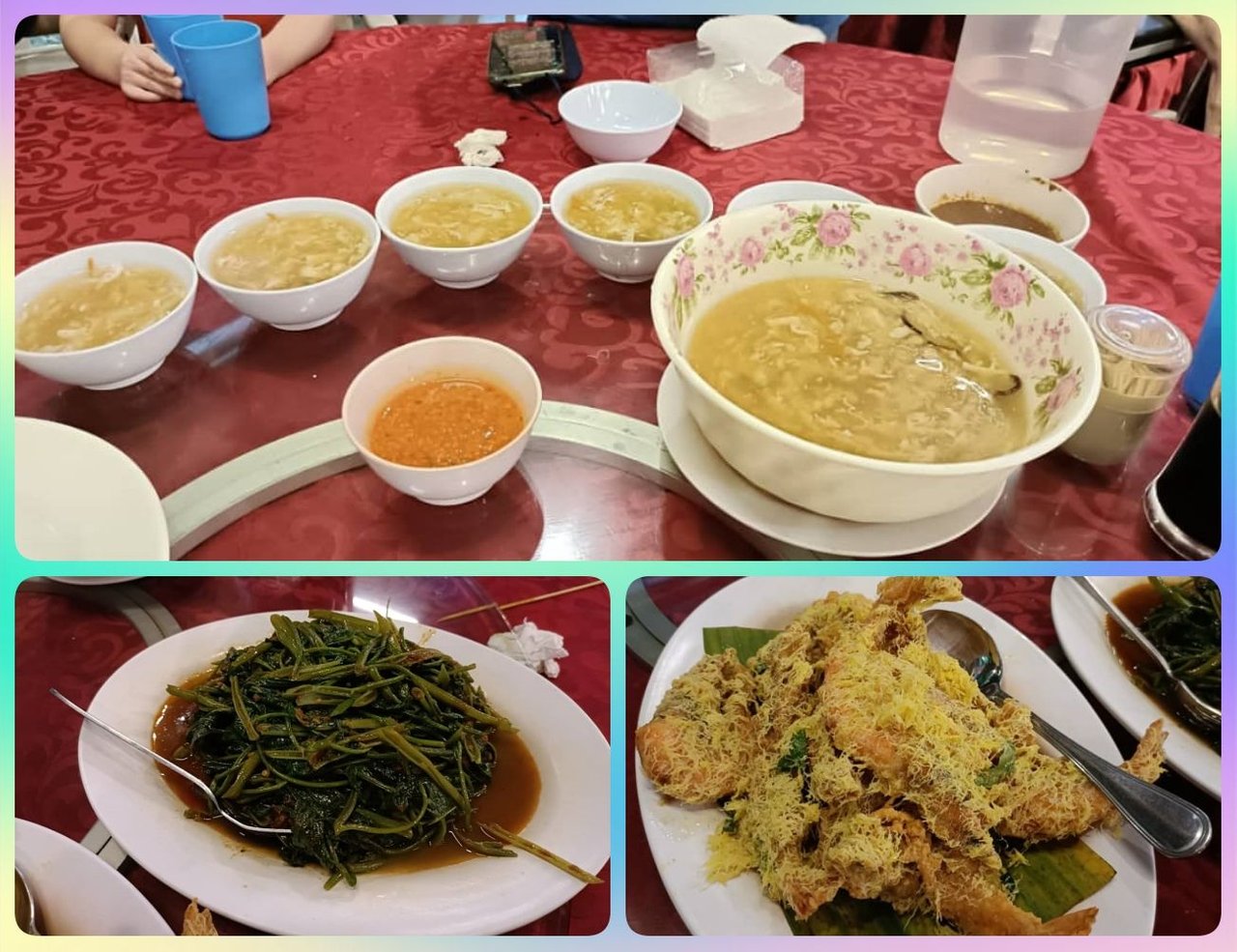 And a family photo is a must before we leave. Two families were not with us on that day due to work obligations and some other matter.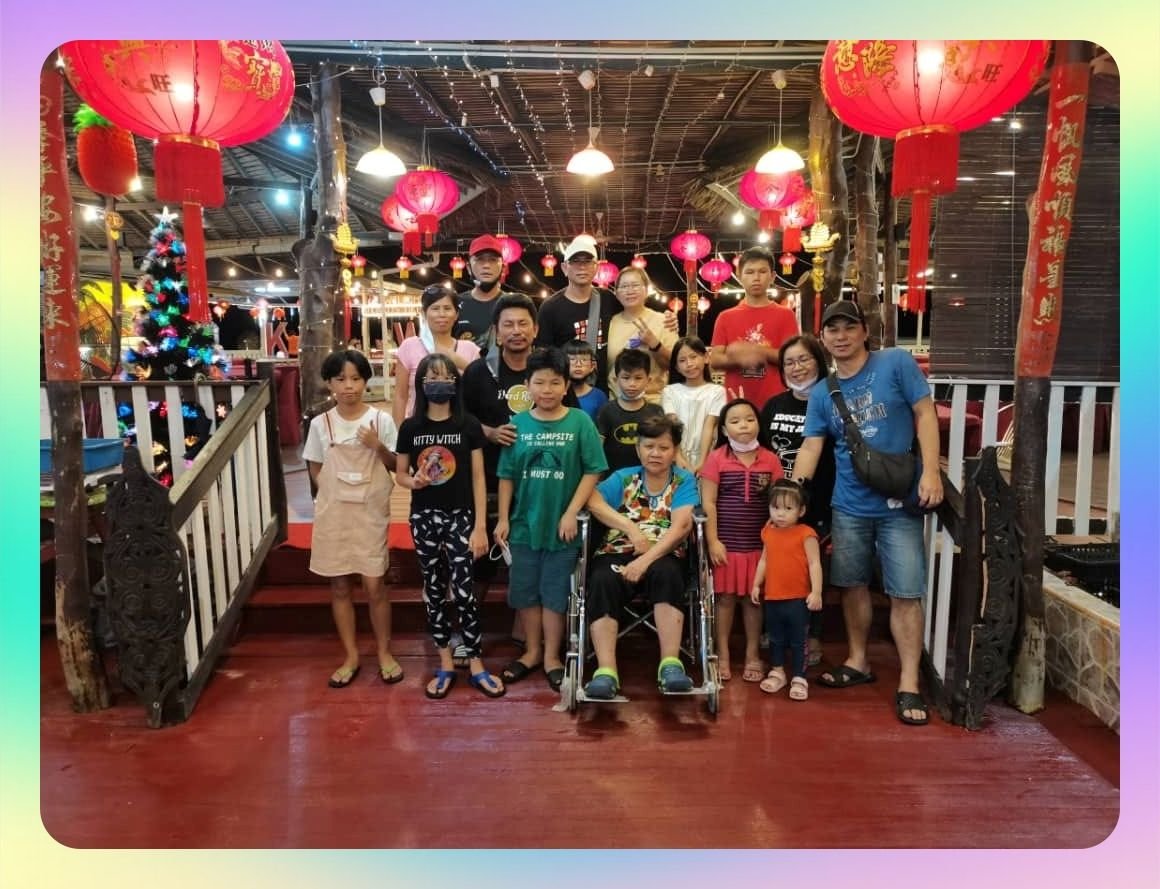 In my next post, I will share about our short trip to Likas Bay. I thought to include that in this post, but it would make this post awfully long with too many pictures.
That's it for now. If you read this far, thank you. I appreciate it so much! Kindly give me a follow if you like my content. I mostly write about making art, life musing, and our mundane yet charming family life here in Klang Valley, Malaysia.
Thank you for visiting and reading my post. I hope you like it!
My First NFT Collection – Stencil 2017 – Is Now Available On OpenSea

Note: This post was originally posted on my Hive blog.