Hi all, this is the second part of our recent family vacation to Kota Kinabalu, Sabah. You can read the first part of our trip in this post: Family Vacation to Kota Kinabalu, Sabah (Malaysia) | Part 1. I have to separate my post into several parts because I have so many pictures to share since we visited several places. But of course, I would not share all of them here and only choose the most notable ones.
In the first post, I mentioned checking in at Sutera Avenue, KK, for a 4 days/3 nights staycation with my in-laws. Sutera Avenue is located at Jalan Coastal in Kota Kinabalu, 1.5 km from the city center. Imago Shopping Mall is roughly 300m away and on the opposite side of the main road. We chose to stay at Sutera Avenue because the accommodation is cheaper than other homestays around Kota Kinabalu. I mean, I would love to stay at The Loft, or Sutera Harbour, or Karambunai Resort but man….those places aren't cheap.
Here are some of the facilities offered at Sutera Avenue:
The apartment units are furnished with airconditioners, flat-screen TV, free WiFi, kitchen with utensils, seating, or dining areas. Non-smoking apartments.
Children's playground
Swimming pool
Free parking space for guests (1 parking space for 1 unit)
Fitness center
A car rental service
Cafes, sundry shops
We tried and enjoyed all of the facilities, except the fitness center. I wanted to give the gym a try, but we went swimming, which was a sufficient workout.
The Swimming Pool at Sutera Avenue
The swimming pool was open for all guests, but unfortunately, we had to book our 1-hour slot to avoid overcrowding. I felt disappointed that we couldn't use the pool beyond that one hour, but I understood the reasoning behind it – to curb the spread of Covid-19. Daily Covid-19 cases had increased to more than 30 thousand daily, and it was necessary to impose some control on the crowd. Some guests were unhappy with this arrangement and left nasty comments to the management. I am not a disagreeable person, and neither does my husband. We had no issue with this rule. We could always book another time slot next time, which we did.
I booked our timing at 11am when the water wasn't too cold, and it wasn't too hot to swim. The kids were the most enthusiastic. My mother-in-law and her sister were happy to tag along and enjoy the scenery. The swimming pool was located on the building's 11 floors (topmost floor), and the view was breathtaking. We could see the South China Sea and Gaya Island too. The pool was divided into the shallow kids' pool and the adult pool. Both pools were adjoined, and those who brought kids to swim must supervise them all the time. The kids' water level was up to my shin, which was very shallow. The adult's section was obviously deeper but not too deep, about 4 feet, slightly below my shoulder.
I didn't intend to swim, and I thought I would just sit on the bench and watch the kids playing in the water. But the water was too tempting, and I hadn't swam in a very long time. I figured I just took a dip, and that was sufficient, but nope, despite not wearing proper swimming attire, I ventured to the deep end and swam! Only to discover that I couldn't really swim! I hadn't swam in a very long time that I felt awkward in the water, and I couldn't float properly. It was very frustrating. It was like when you hadn't ridden a bike in a long time and wobbled when you finally got to ride one. My brain remembered the techniques, but my body was out of sync with my brain. I tried several times but got too exhausted. The fact that I was aging and wasn't as fit as I used to be was a bit too embarrassing LOL! So I was content to just walk in the water and teach my kids to swim. But I vow to come back and give it another try next time.
The guard blew his whistle when the time was up, so we had to leave. I booked another swimming slot for the following day at 11am. My sister-in-law and her family checked in on the opposite apartment, and they would join us for the swim.
After trying several times, I managed to swim the following day. I asked my husband to observe my form if I did it correctly and he said that I had some issues with my posture, particularly my lower back. I knew it. I couldn't straighten my body properly, which was why I couldn't really float. Well, let's just say that my physical changes a lot after childbirth. Carrying a child for 9 months would take a toll on your body, particularly your lower back, mind you. Anyway, I was just happy to have some fun with my family. It didn't matter if I could swim. As long as everyone was having some fun, I was delighted.
After the swim, we all got ready for our trip to Membakut. My in-laws and their families would join us for this half-day trip. This trip was for us to settle some family matters, so I didn't take many pictures. However, we had our dinner at the famous Beringgis Riverside Seafood Restaurant, Papar. I took several photos, but I think this post would be too long to include all of them here. I will write about our dinner experience in the following post, so I hope you stay tuned for my next post.
Here are some of the photos taken during our fun time at the pool. The kids were the happiest. I am glad the pictures were clear because they were all taken under the blazing morning sun.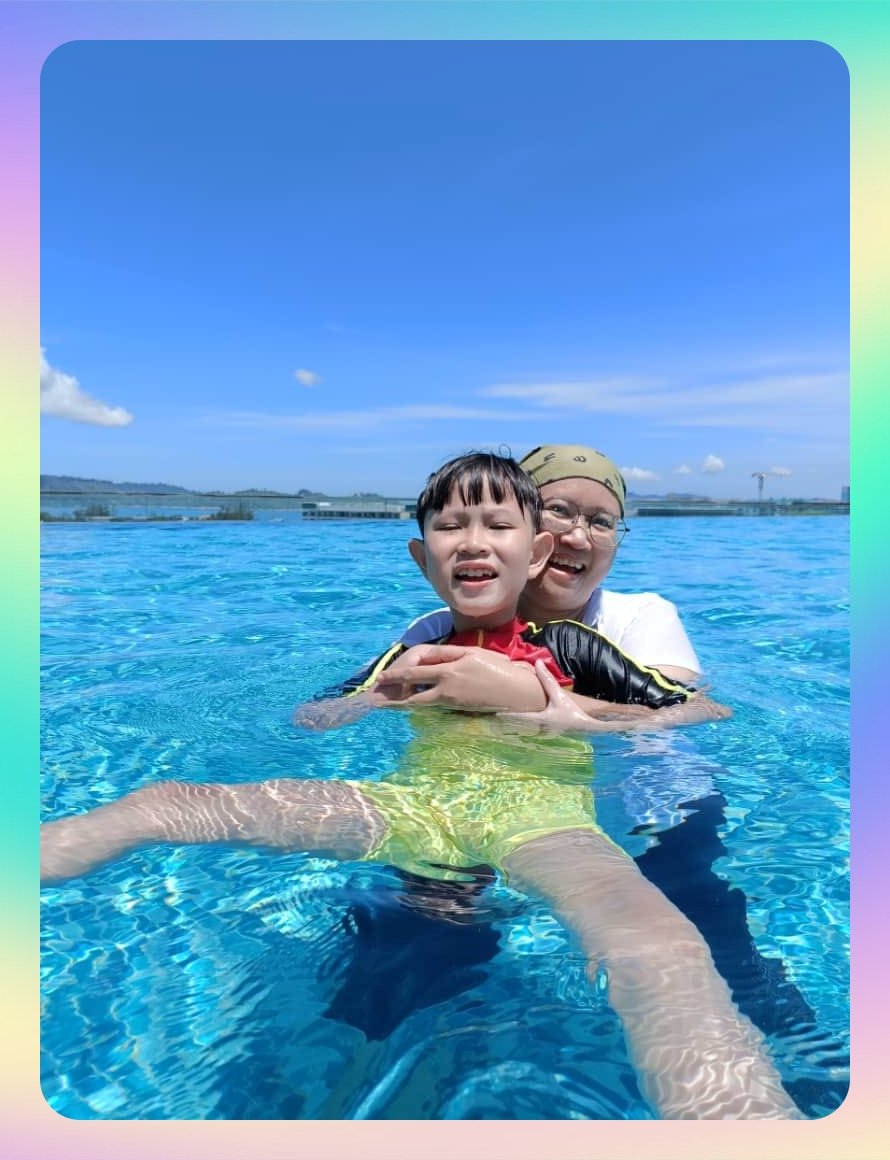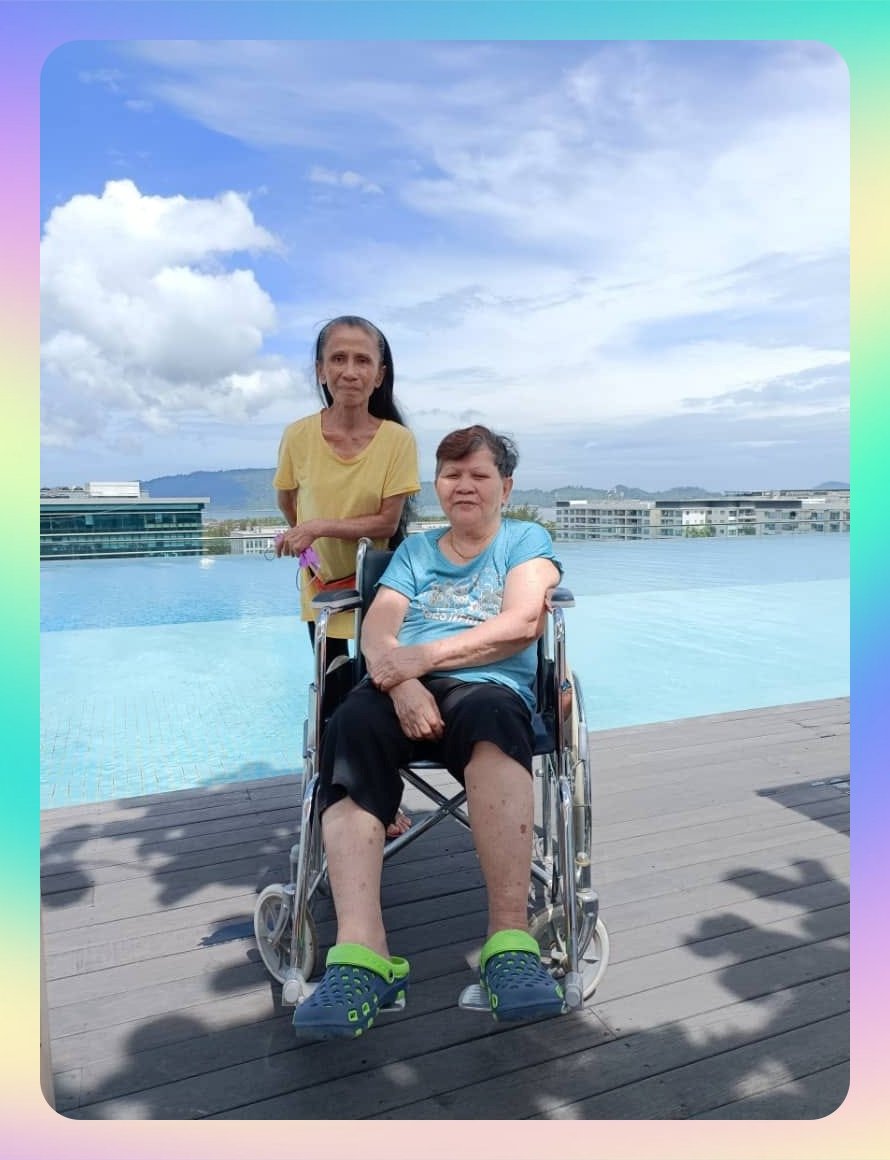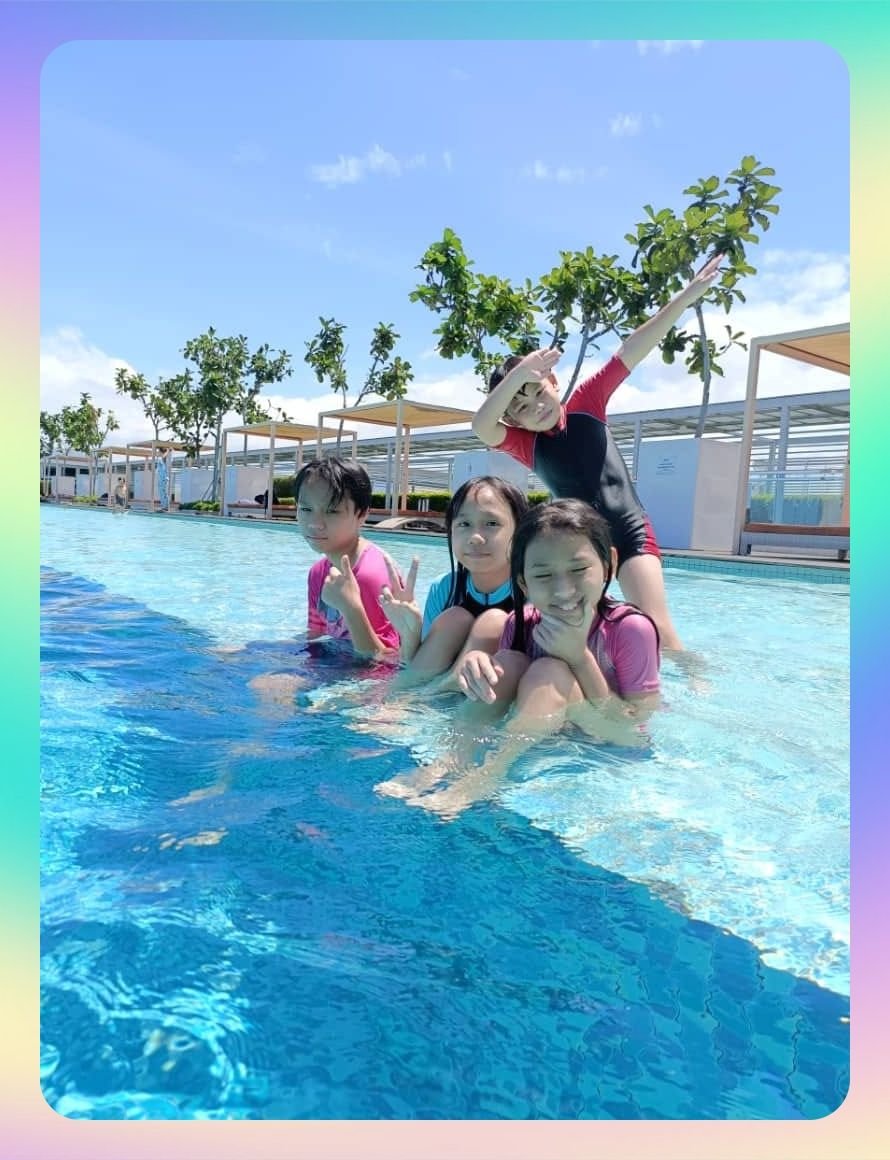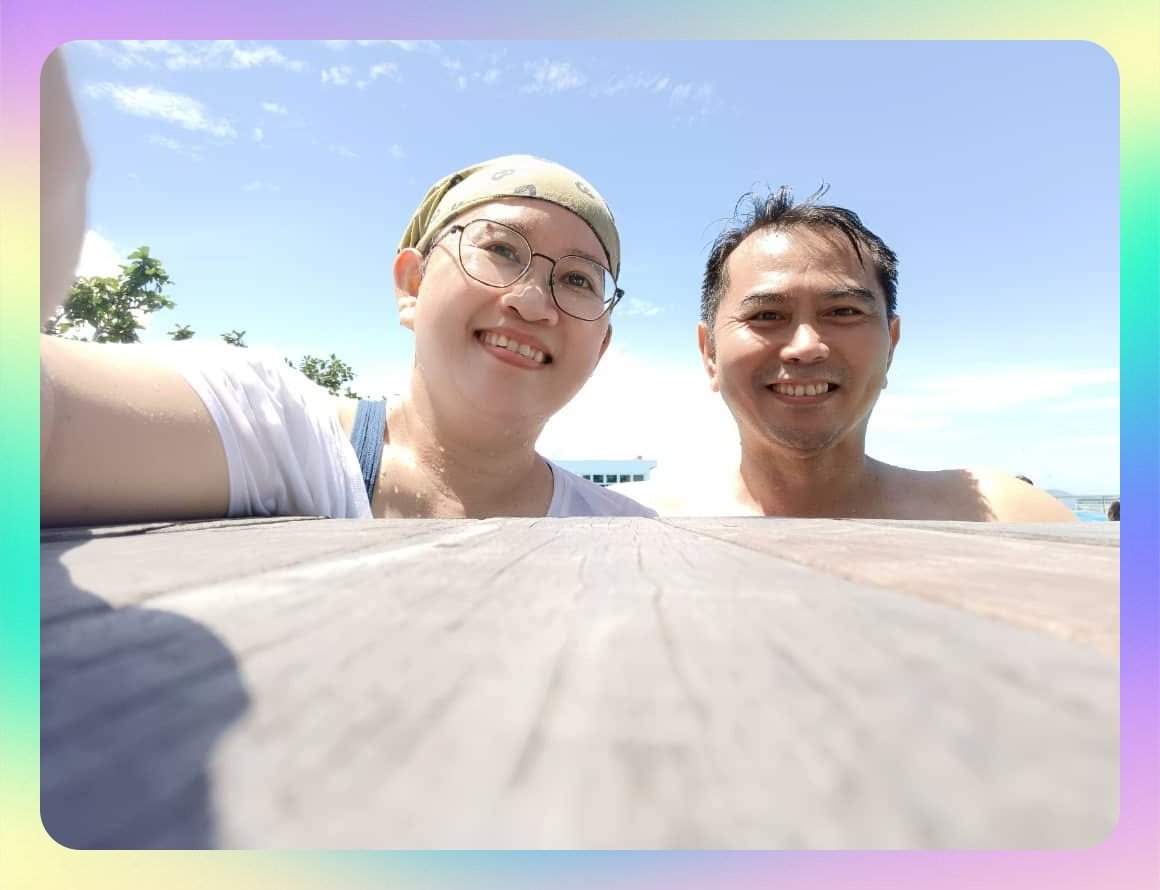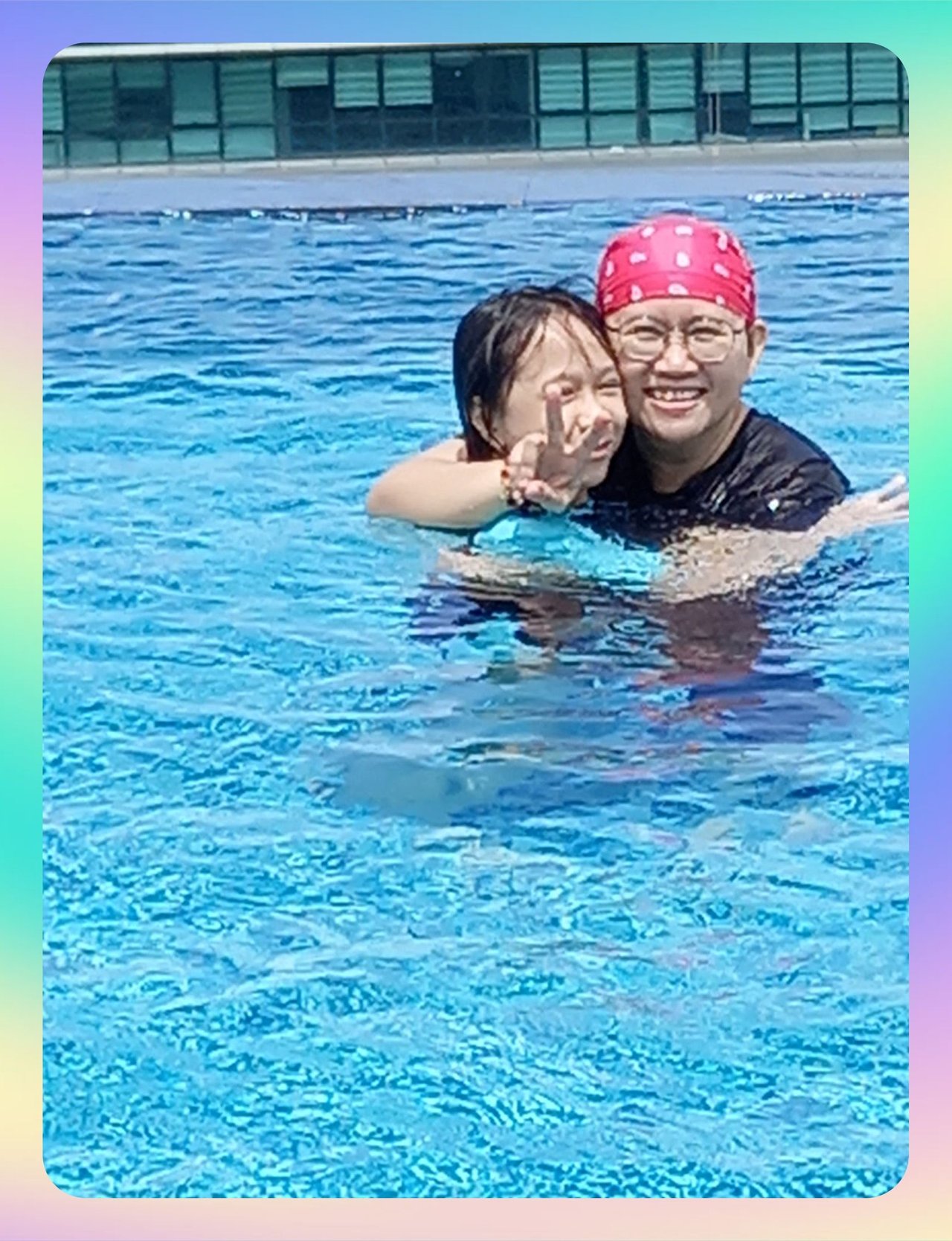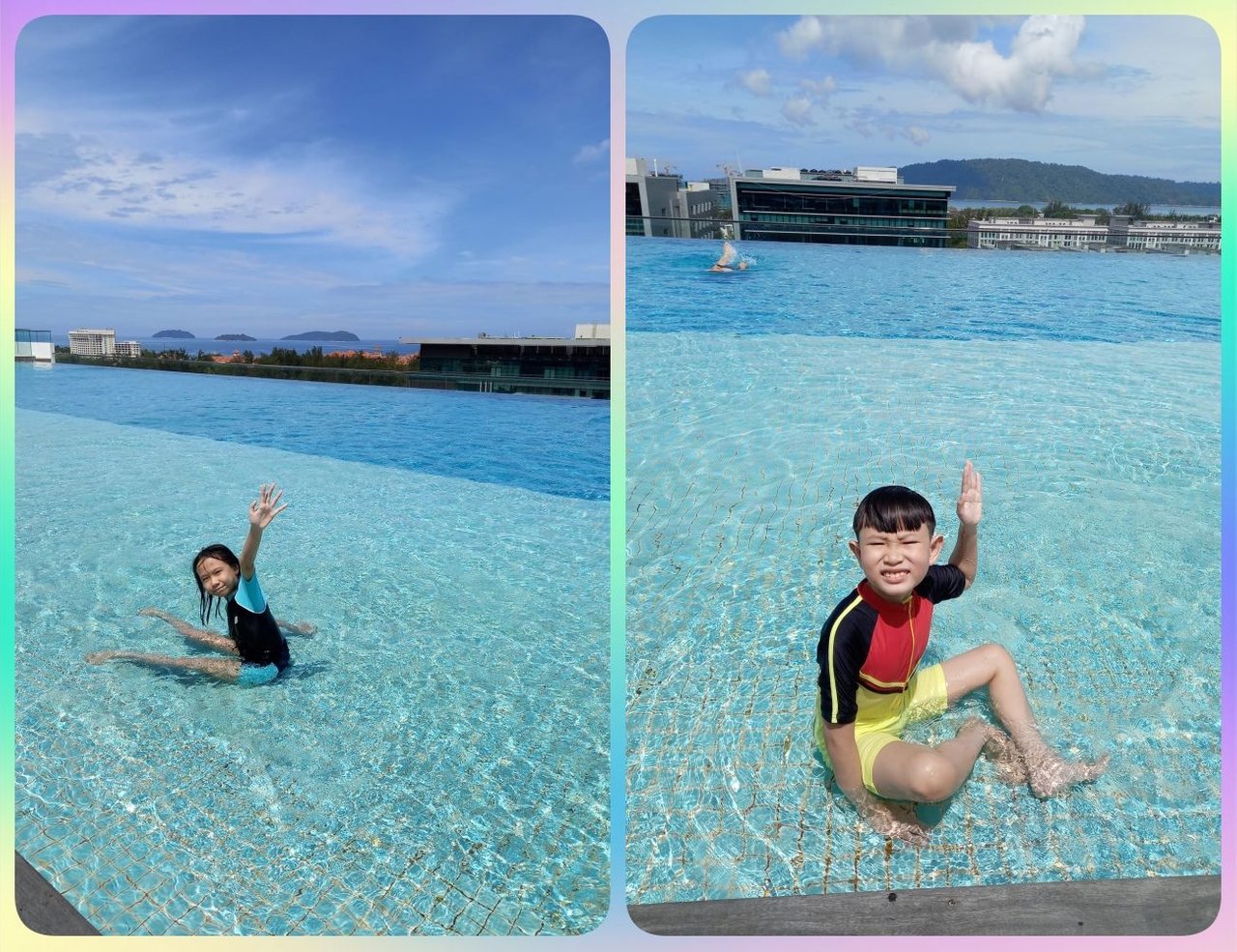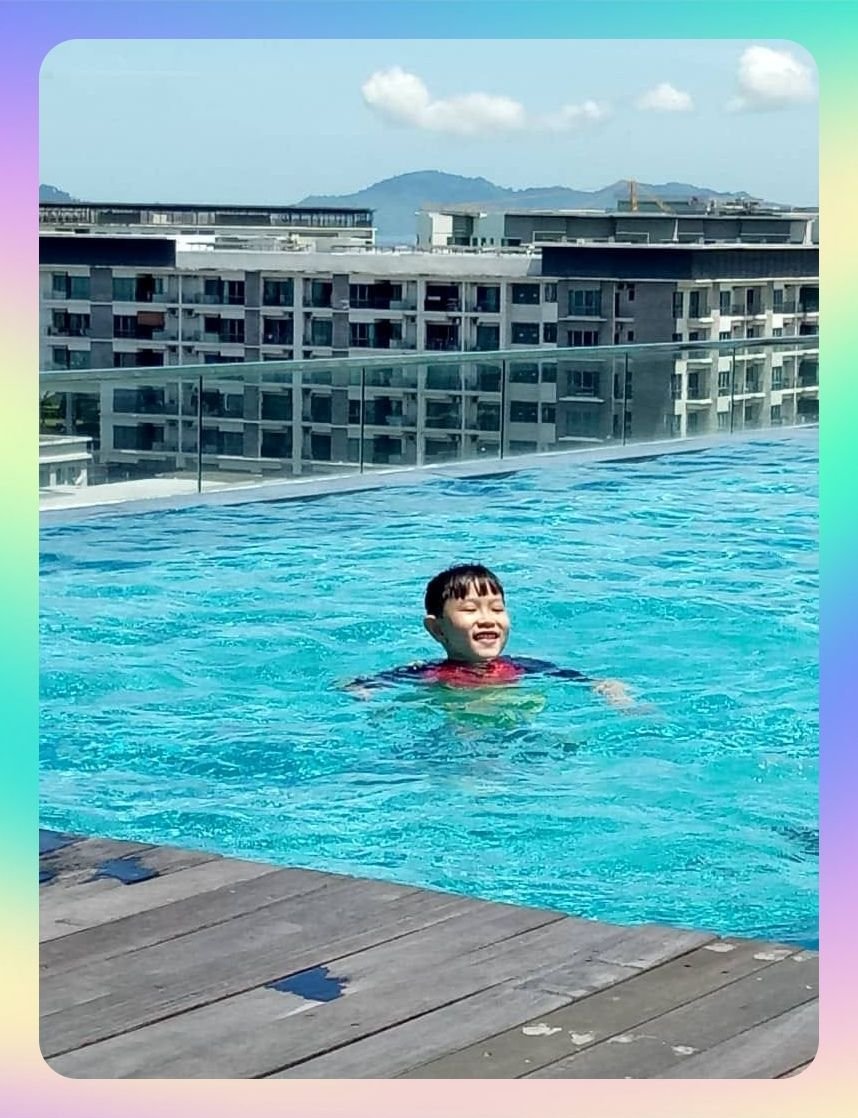 That's it for now. I shall continue with part 3 of our trip in the next post. If you read this far, thank you. I appreciate it so much!
Thank you for visiting and reading my post. I hope you like it!
My First NFT Collection – Stencil 2017 – Is Now Available On OpenSea

Note: this post was originally posted on my Hive blog