I celebrated my birthday recently, as mentioned in this post – Turning 45 and Thoughts On Being Middle-Aged. I received some lovely gifts and heartwarming wishes from friends and family. I even bought some new art supplies as gifts for myself. I purchased these supplies from an online art store. I preferred to buy things online rather than go to the stores because of the recent spike in Covid-19 cases in our country.
The delivery guy delivered my art supplies precisely on my birthday. I didn't expect it to arrive on that day because it was a Saturday. I was pleasantly surprised when I heard the knock on my door and saw the delivered parcel.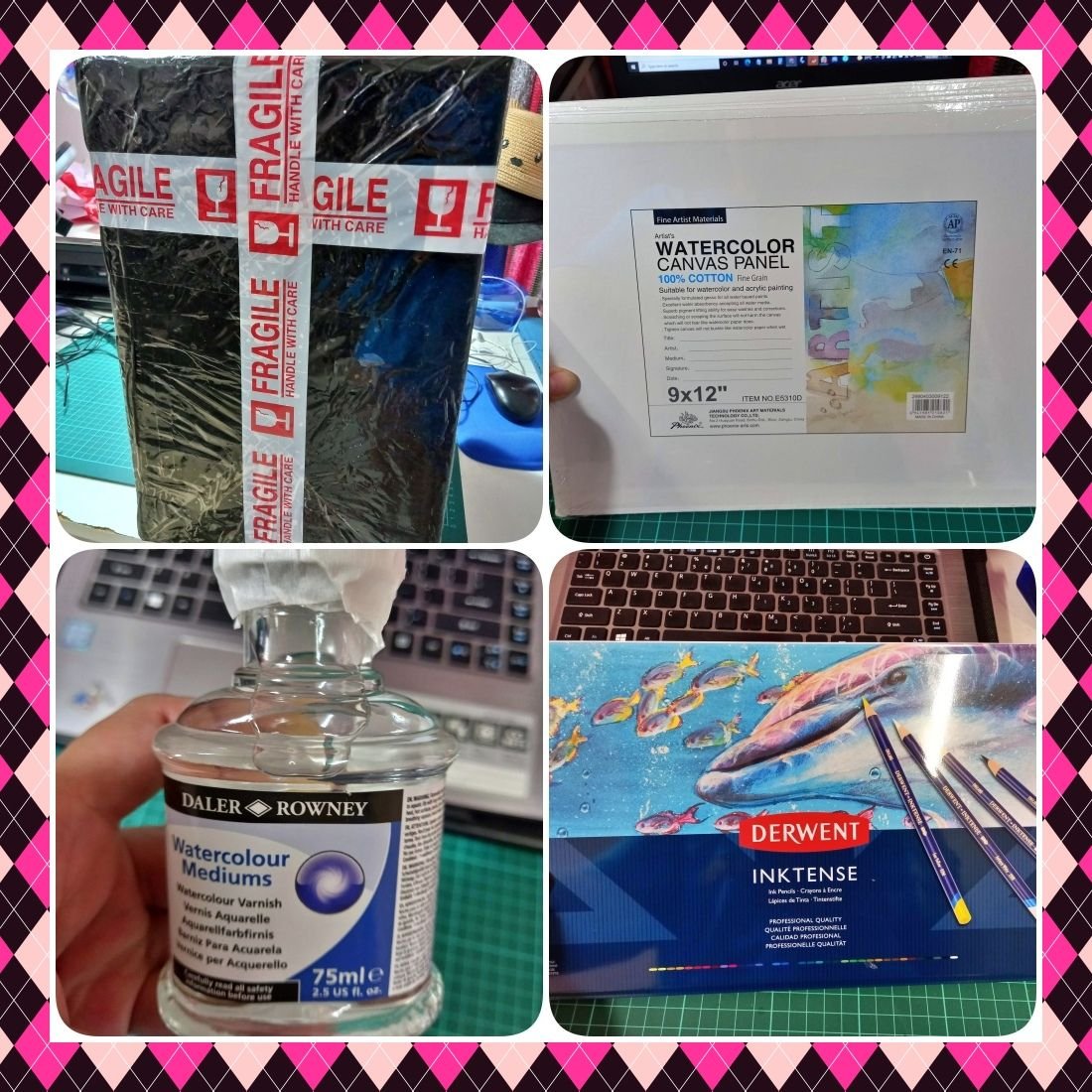 So what was in the parcel?
1) Five pieces of Phoenix watercolor canvas panel.
This is my first time purchasing watercolor canvas panels. I heard some excellent reviews about canvas panel vs watercolor paper, and I wanted to try it. It was surprisingly affordable. I bought the smallest size available, but if I like it, I may buy the larger sizes in the future. I haven't used my panels, but I will do a product review once I try it.
2) Daler Rowney watercolor varnish
I always wanted to varnish my watercolor paintings, but I haven't found a suitable product for it. This varnish will make your paintings glossy, like those varnish for acrylic paintings. I hope I can protect my paintings better with this varnish. I haven't used it, though, but I will do a product review once I try it.
3) Derwent Inktense pencils (set of 36 pencils)
I am super excited about these pencils because they are not your ordinary colored pencils. These are water-soluble ink pencils. You can use them dry but mix them with water, and the color turns into vibrant ink. Once it's dry, the color is permanent. The great thing about these pencils is you can use them on fabrics.
Today I am going to do a review on these pencils. The pencils are wrapped in plastic. I am glad they did this because it prevented the pencils from getting shaken and broke their leads. Nothing is more annoying than broken pencil leads while you are drawing.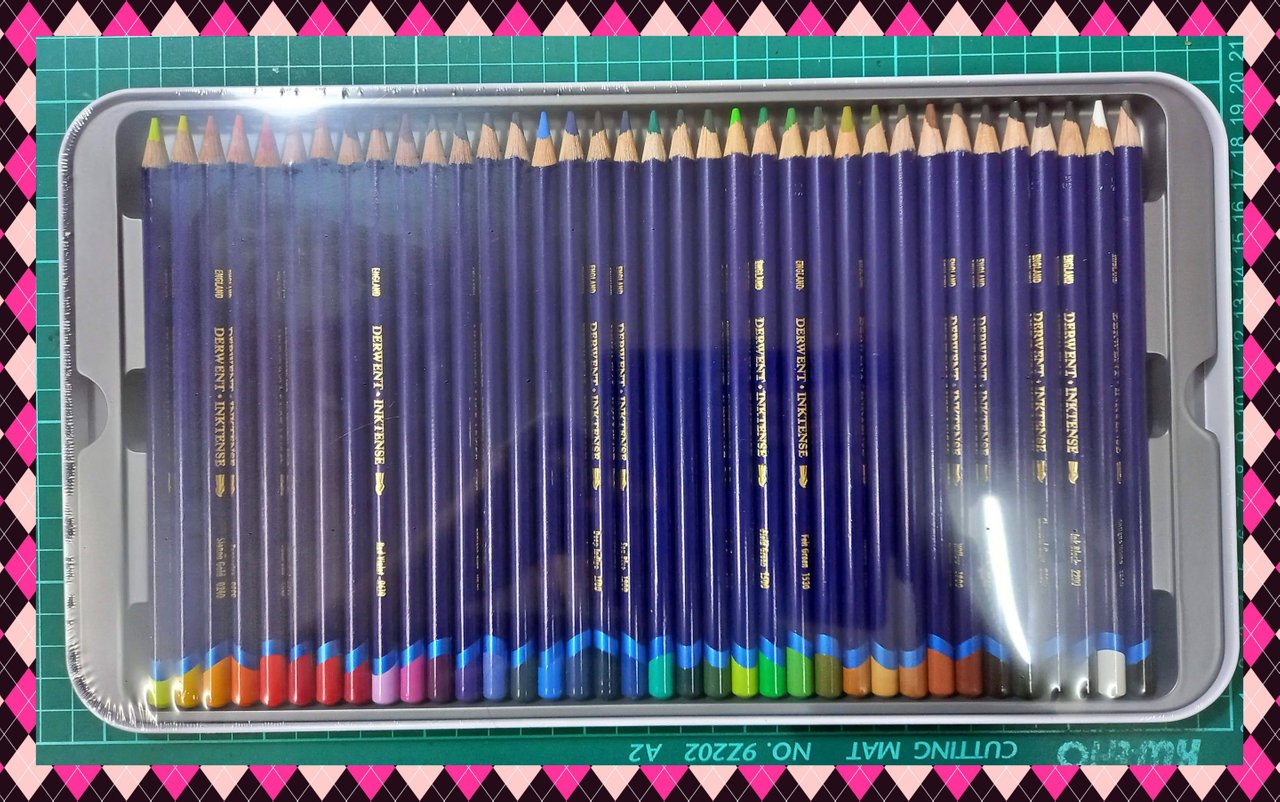 Color Swatch
After unwrapping the pencils, the first thing I did was to do the color swatch. I noticed straight away that it has limited choices of bright, warm colors. I feel a little bit disappointed because I used many bright colors in my drawings. I probably can blend colors using the available palettes; still, I would prefer Derwent offer more yellow, pink, and red shades. But I think I can use my old watercolor pencils to make up for the lack of warmer palettes.
Set Options
Derwent Inktense pencils are available in 12, 24, 36, 48, and 72 packs. They are available in tin containers or wooden boxes. The pencils' exterior is dark blue with the color name stamped on the side near the base. The pencils are round 8mm barrel; and wide 4mm core.
Price
These pencils are professional quality pencils, so they are pretty pricey. But this is a subjective matter depending on where you are from. It is expensive for me because Derwent is an imported brand. A 36 set of pencils cost me MYR186, roughly US$45. The 72 set cost MYR345 (US$82). And that is a lot of money for everyday folks here in Malaysia! However, if you are looking for high-quality pencils with intensity, it is worth the price.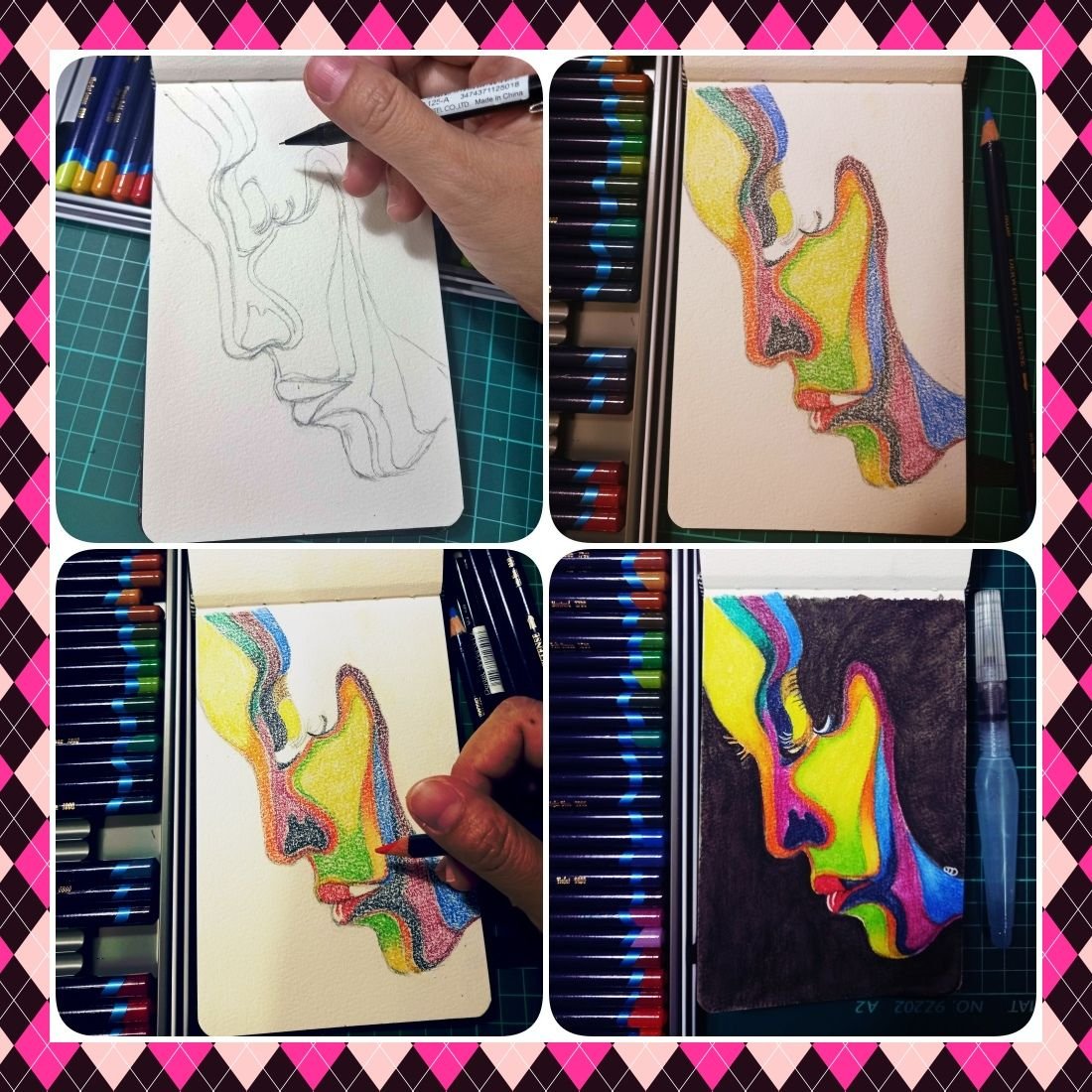 Usability
The pencil leads are not overly waxy or soft. If you had used watercolor pencils before, you would be familiar with the texture. The pencils have a 4mm core, which is thicker than ordinary pencils. Sharpening it to a sharp point might be a bit tricky, but you can use a pen knife to make it sharp.
Remember that once the paint is dried, they are permanent and can't be diluted with water like other watercolor pencils. So it is vital to get the color where you want it before wetting it with water.
Yea Or Nay?
I highly recommend these pencils if you want to achieve that intense, vibrant look. The colors are permanent once they are dried. However, suppose you want to blend the colors even after they dried. In that case, I suggest sticking to standard watercolor pencils that offer similar vibrancy like Faber Castell Aquarelle pencils. You might want to skip these pencils altogether if your work doesn't require so much vividness. Please note that Derwent does not offer a lot of warmer shades (even for larger sets), so you might want to keep that in mind before purchasing a set.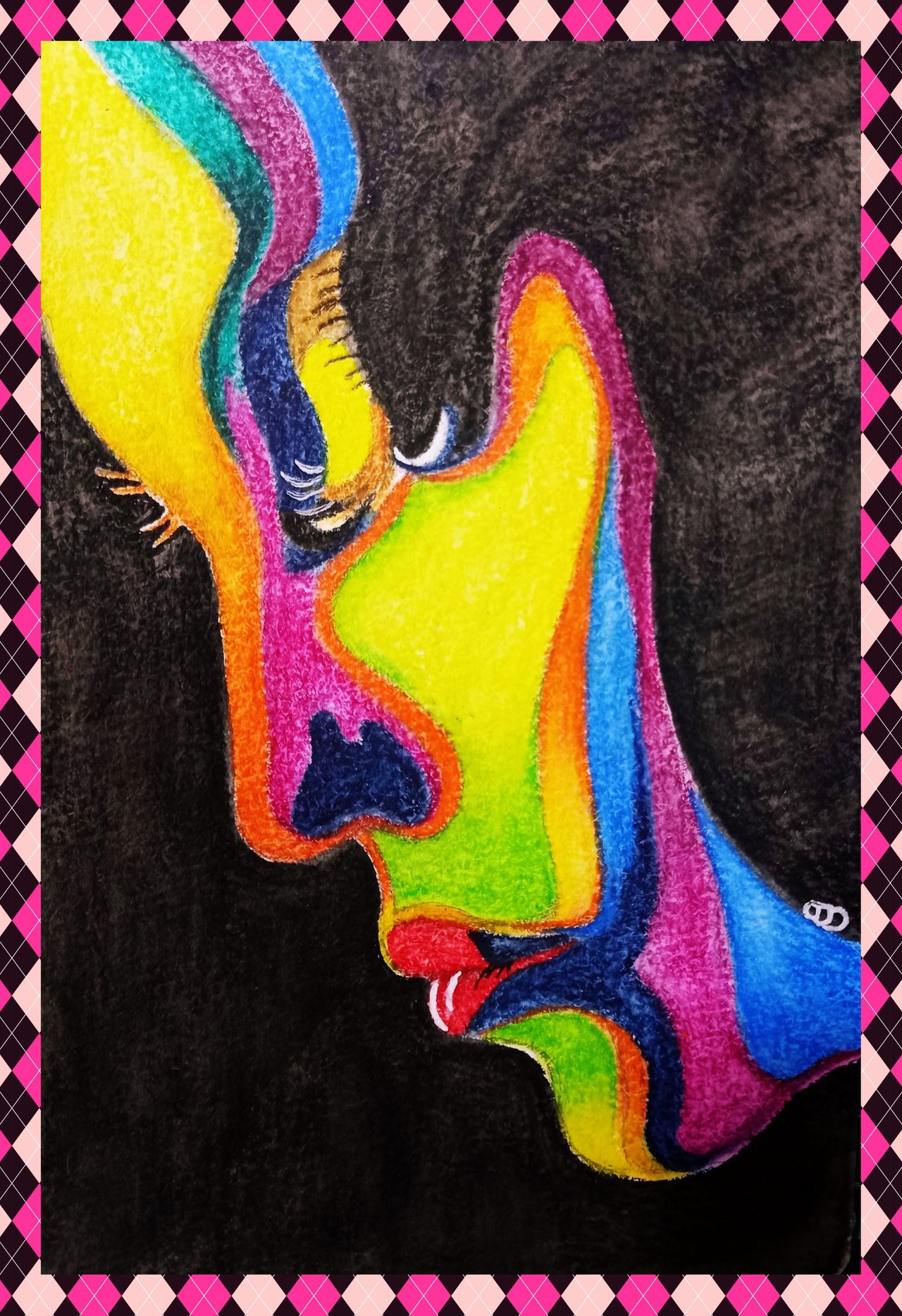 Thank you for visiting and reading my post. I hope you like it!
My First NFT Collection – Stencil 2017 – Is Now Available On OpenSea

Note: This post was originally posted in my Hive blog.